Translated from director and producer Kenichi Tani's blog, posted August 6, 2017, with his notes pertaining to the stage play Super Evolution Stage: Digimon Adventure tri. ~The August 1st Adventure~, which ran for ten showings between August 3 and 15 in 2017 at the Zepp Blue Theater Roppongi.
---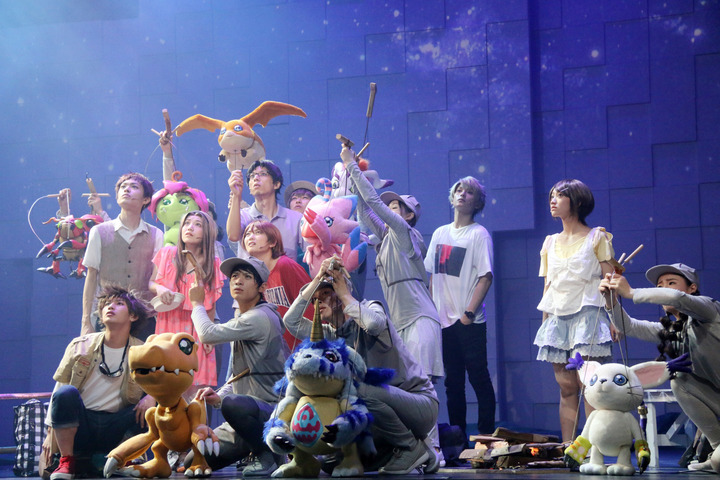 Super Evolution Stage: Digimon Adventure tri. ~The August 1st Adventure~
August 5 (Saturday) through 13 (Sunday), 2017
Zepp Blue Theater Roppongi
Writer/Director: Kenichi Tani; Original work: Akiyoshi Hongou
http://digimon-stage.com/
Due to a rather strange web of coincidences, I ended up becoming the writer and director for my first 2.5D stage play, Digimon Adventure tri. ~The August 1st Adventure~. I say "first", but I was responsible for things like the script for Sidi Larbi Cherkaoui's PLUTO and Philippe Decouflé's production I am Shingo, so I have had some experience in anime/manga works, and I myself grew up in the generation of anime and games, so I did have an interest in the genre beforehand.
Digimon Adventure is a work that aired its first series in 1999 and has since come to be considered a legendary anime for its generation. The nature of the content would make it seem to be impossible to translate into a stage format, but the producer watched the DULL-COLORED POP music drama Kappa (at Kichijouji Theater) and said "if Tani-san can pull off such an unusual work like this, I think he can do it." I give you my utmost thanks.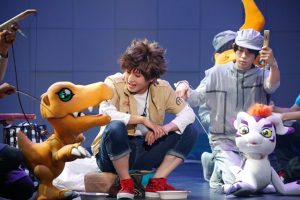 The Digimon who act as the "partners" of the human protagonists are called "digital monsters", but in fact they are not entirely "digital" as much as they are creatures with souls and hearts. In the original anime, the children's hearts' "growth" and the Digimon's "evolution" are tightly linked, and I was moved to tears many times. Digimon are tied to their partners with a bond so tight that even the words "best friends" are not enough to describe them. This meant that simply putting them on a screen would be insufficient, and they needed to be real things that you could touch, look at, and perceive as real. I insisted very strongly on this, and so we ended up making them to scale.
However, there are eight children and eight Digimon. Having all of them appear would cost quite a bit of money. Normally that would lead to a thought process like "we'll have Agumon and Gabumon appear, but not Tentomon," or "we'll have Patamon be sleeping at home," but in the original story all eight children are leading heroes in their own way, and there isn't one that you can pinpoint as "the sole protagonist". Furthermore, each of the eight Digimon has their own diehard fans. So I insisted, "we can't cut anything at all, we have to have all of them appear!"…but was told this was impossible.
The direction and supervision for the puppet movements was by the well-established group Puppet Troupe Hitomizan. Our collaboration with Hitomizan ended up being one of our most creative experiences to date. We started the project largely interested in how to make humans, videos, and puppets work together, but Hitomizan, with their decades of experience and skill, taught us so many things that became more and more interesting the more we listened to them about it, and we ended up learning so much from them. We ended up taking detailed notes, about how to leave an impression on the audience, how to hold things down with confidence, the concept of remotion, the idea that the operator is effectively the puppet's "director". We stole learned a great many things that turned out to be very useful for acting in general.
In addition to the small (Child-level) Digimon shown in the picture above, we also had the larger, evolved (Perfect-level) Digimon appear in the show. We referenced the stage versions of War Horse and The Lion King, Japanese lion dances and Chinese dragon dances, and the work of a certain overseas puppet artist, and I think we were able to make a satisfyingly big end result. Of course, in this day and age, you could easily get away with doing it with just the video, but we wanted to challenge ourselves and try to do it live, because the whole point of the stage medium is to imagine it and make it real. So I pushed very hard to do it, against all odds. Operating the large one, named MetalGreymon, was something that no one had pulled off before, so it really did feel like we were groping for it on the spot, but with the help of the operators and the advice of our artist Aoki-san, we managed to make it happen.
Besides that, a website named Digimon Headline posted their detailed impressions and the things they noticed in detail, so I'll link to it here. All I can say is that I'm amazed that they caught all of the little things I put in there, like the 02 references, from only watching it once. Every day, I realize more and more that Digimon is a work that is truly loved by its fans.
In addition, theatre reviewer Shinobu Takano came to watch us. She is generally more into conventional plays, and knows very little about Digimon, and so when I heard that even she enjoyed it and emerged crying, I was truly happy.
Super Evolution stage show Digimon Adventure tri. ~The August 1st Adventure~ ① Approximately 2 hours 20 minutes, including intermission. The puppets, the videos with clips of the original anime, the original voice actors' performances, and the lighting and sounds create a powerful effect. It's a story about the worries of the modern person who isolates themself from their own dreams, one that should be relatable to all, and parallels the children's own growth to the Digimon's evolution. I cried, I was surprised! pic.twitter.com/AVkWr4HU9c
— Shinobu Takano (Shinobu's Theatre Reviews) (@shinorev) May 8, 2017

Digimon stage play ② The puppet play, the kabuki (bunraku)2, there was a certain part where a whole amusement park troupe came out and my head was trying to process it (haha). You can also enjoy the animated parts of it too. Ore no Graffiti-san, who blended together good and evil, love and hate, falsehood and truth in such a way that makes it feel alien to you, was also wonderful. It's an event that feels full of love for the original work and a mind to truly make its fans happy. The above is the impression of an audience member who knows nothing about the original at all.
— Shinobu Takano (Shinobu's Theatre Reviews) (@shinorev) May 8, 2017
We had tons of meetings about the puppets and the screened videos even prior to rehearsal, and of course I had to catch up on the entire Digimon story and read all of the relevant books, and then we spent a month with rehearsals, so I ended up not having a single day off and we rehearsed for about ten hours a day. Then, once we secured the theater, we had to bring in all of the video parts to screen, the sound, the puppets, the art pieces, and the costumes, and it took about three times as much time as it would for a conventional play, but despite all of the trouble we managed to make it through somehow. With that, and with the performers' enthusiasm, we received a very good response to our hard work.
Even those among the audience who didn't know anything about Digimon saw it and said that they left the theater crying. Well, it makes sense. I mean, I didn't know anything about the Digimon series, and I started watching it, and cried myself, so many times. I couldn't have imagined I'd be allowed to participate in Digimon's history in this way, but I'd be very happy if the memories of this one short summer would stick with Digimon fans. This show won't be around for very long, but that's all right, as long as it stays within your memory.
---
Translator's notes
I don't currently have plans to translate the review Director Tani linked to, but it's basically a spoiler-free review of the stage play on a Digimon fansite, commending the show for its way of portraying the Digimon through puppetry and human characters with live actors, its fidelity to Adventure and Adventure 02 characterizations, and reassuring readers about its extensive respect paid to both Adventure and Adventure 02 proper. [↩]